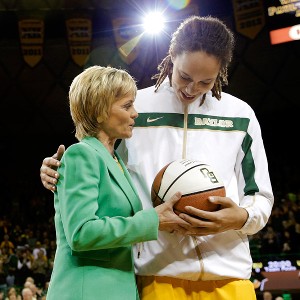 Former Baylor Bears standout Brittney Griner is undoubtedly one of the best women's college basketball players to ever play the game. Griner also happens to be gay, which she publicly revealed in an interview with SI.com in April.
Now, a new report has surfaced regarding Griner coming out to the public. The WNBA's No. 1 overall pick reportedly told
ESPN.com
that she was instructed by Bears head coach Kim Mulkey to keep her sexuality private because Mulkey believed it would hurt recruiting.
"It was a recruiting thing," Griner said during an interview with ESPN The Magazine and espnW. "The coaches thought that if it seemed like they condoned it, people wouldn't let their kids come play for Baylor."

"It was more of a unwritten law [to not discuss your sexuality] ... it was just kind of, like, one of those things, you know, just don't do it," Griner said Friday. "They kind of tried to make it, like, 'Why put your business out on the street like that?'"
"I told Coach [Mulkey] when she was recruiting me. I was like, 'I'm gay. I hope that's not a problem,' and she told me that it wasn't," Griner said. "I mean, my teammates knew, obviously they all knew. Everybody knew about it."
The 22-year-old said that she has been open and honest about her sexuality with friends and family since her freshman year of high school. Additionally, she also said that Mulkey and her Baylor teammates were aware that she was gay.
For those who may not know, Baylor is considered a private Baptist school, and includes a "Statement on Human Sexuality" in its handbook given to students. Under the label "Sexual Misconduct," it says that "Christian churches across the ages and around the world have affirmed purity in singleness and fidelity in marriage between a man and a woman as the biblical norm. Temptations to deviate from this norm include both heterosexual sex outside of marriage and homosexual behavior. It is thus expected that Baylor students will not participate in advocacy groups which promote understandings of sexuality that are contrary to biblical teaching."
The school declined to comment on the matter, but did refer to a statement earlier this month it issued to ESPN The Magazine and espnW calling Griner one a "celebrated member of the Baylor family."
Via
Sports Illustrated