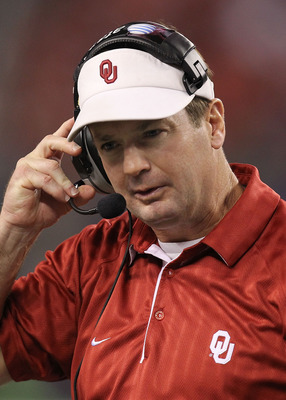 The Southeastern Conference has long been regarded as the premier league in college football. And for good reason.
The league has won seven straight national championships and just had a whopping 63 players selected in the NFL Draft.
As dominant as it may seem, Oklahoma head coach Bob Stoops doesn't seem too impressed. During a recent caravan stop, Stoops reportedly called the SEC's dominance "propaganda" and said the gap between it and the rest of the conferences isn't as wide as people may think.
Stoops referred to the bottom half of conference as evidence.
"Well, it depends on what gap you're talking about," Stoops said. "What are the bottom six doing?
"So they've had the best team in college football," Stoops said. "They haven't had the whole conference. Because, again, half of 'em haven't done much at all. I'm just asking you. You tell me."
In a way, Stoops does have a point, as flawed as it seems. The five SEC schools, Kentucky, Missouri, Arkansas, Auburn, and Tennessee, who failed to go to a bowl game last year were a combined 19-41. Meanwhile, the bottom half of the Big 12, Texas Tech, TCU, West Virginia, Iowa State, and Kansas, combined to go 29-35 overall.
"It depends on who you want to listen to," Stoops told the Tulsa World. "Listen, they've had the best team in college football, meaning they've won the national championship. That doesn't mean everything else is always the best.
"So you're listening to a lot of propaganda that gets fed out to you," he said. "You're more than smart enough to figure it out. Again, you can look at the top two, three, four, five, six teams, and you can look at the bottom six, seven, eight, whatever they are. How well are they all doing?"
For the record, Oklahoma isn't too far removed from being smacked by Johnny Manziel and Texas A&M, 41-13, in the Cotton Bowl. It seems as though Stoops is still a bit bitter about that.
Via
Sports Illustrated