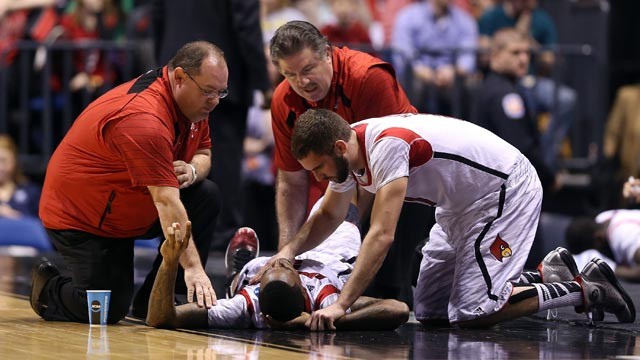 Louisville sophomore guard Kevin Ware sustained one of the most terrifying basketball injuries of all-time on Sunday.
But could the injury have been exacerbated by undetected stress fractures? According to a couple of doctors who spoke to ABC, the answer is yes.
"He came down hard, landing in an awkward way," said Dr. Robert Glatter, an emergency physician at Lenox Hill Hospital in New York and a former sideline physician for the New York Jets football team. "That combined with an underlying bone issue or an existing stress fracture predisposes someone to this type of injury."
Tim Hewett, director of sports medicine research at Ohio State University agreed. He speculated that Ware's diet could have been deficient in vitamin D and calcium leading to more porous bones. That, combined with the constant pounding Ware endured through an entire season of basketball, may have created small stress fractures in the tibia and fibula bones in his lower leg, causing his bone to snap when he took a bad step.

Ware underwent surgery at a local hospital within hours of suffering the injury. He was up and walking around on crutches Monday afternoon in his hospital room.
The prognosis for Ware is good and Rick Pitino is hoping to have his versatile guard back in time for the start of the 2014 season.
Meanwhile, the Cardinals are preparing to play upstart Wichita State in the Final Four on Saturday in Atlanta.
Via
ABC News