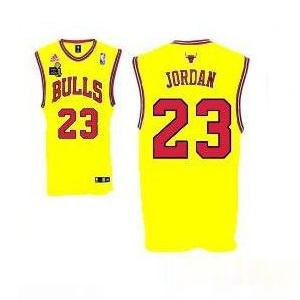 Some college basketball analysts are calling Kentucky's incoming recruiting class the best of all-time. Yes, even better than the infamous "Fab 5" class brought it by Michigan in 1991. Good, because Kentucky will need those players following a disappointing first round exit in the NIT against Robert Morris.
The Wildcats will boast eight new freshman once they take the floor for practice this fall. Six of those freshman garnered McDonalds All-American honors this year including guard Andrew Harrison (Houston, TX) and center Dakari Johnson (Brooklyn, NY). Both are heralded as five-star recruits by multiple recruiting sites, and both appear to have no lack of confidence.
USA TODAY High School Sports
recently caught up with several top recruits and asked them who would win in a one-on-one game against Michael Jordan. And not just Jordan now, but rather Jordan in his prime.

Said Johnson: "I'm taking him to the post every time. He'd stop me a couple of times, but I'd just keep going back down there. I'd just contest his jump shots and pray that he'd miss. I think in the end, I'd get him though. I'm too big down there."
Said Harrison: "I think he'd get a couple buckets here and there, but then I'd start to lock him down and give him buckets. Yeah, I think I'd get him."
For the record, guard Matt Jones (Duke) and Rondae Hollis-Jefferson (Arizona) also said they would take Jordan in a game of one-on-one.
Surely they were joking, right?
Perhaps a time has finally come when today's incoming freshman can no longer remember the greatness of Jordan on a basketball court? After all, these recruits were only 3-years-old the last time Jordan won an MVP award. Still, one would think that Jordan's 14 All-Star Game appearances, five MVP awards, and six championship rings would have a greater lasting impression on youngsters than just a decade.
I think a history lesson may be needed for these guys, or better yet, how about some hands-on experience? Your move, Jordan.