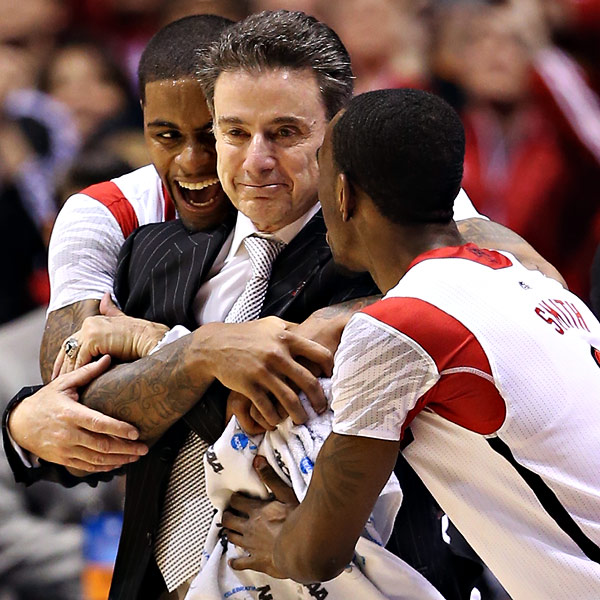 Louisville men's basketball coach Rick Pitino
made a promise
to his players around midseason that he will now have to live up to.
As a way to offer additional motivation to his players, Pitino vowed to get a tattoo if the Cardinals wound up winning the national championship. On Monday, Louisville did just that with an 82-76 victory over Michigan in the title game.
"About 12-13 games ago, all of these guys, when they say 'hello' they get a tattoo," Pitino said after the game. "They said if you win the national championship, coach, you are getting a tattoo. I said, hell yeah, I am getting a tattoo."
Speculation has run rampant ever since then as to what the tattoo would look like, as well as where Pitino may have the ink placed on his body. Well, the wait is finally over as Pitino
reportedly
told his players he would get a tattoo on his left shoulder which features a cardinal and words underneath that read "2013 champions."
"I said it ... not believing this was going to be a reality but I am going to get it. I'm a man of my word. I'm going to get it on my left shoulder," Pitino explained. "It will be a cardinal and it will say 2013 champions."
Now, this isn't exactly the lower-back tattoo that departing senior Peyton Siva was hoping for, but I think the players will be satisfied nevertheless. After all, Siva did call the goal to get Pitino a tattoo the "biggest motivation" in winning the program's third title in school history.
Louisville might very well be in good position to repeat as champions in 2014, even if key players
Russ Smith and Gorgui Dieng decide to leave
for the NBA early. If they can somehow manage to defend their crown, and it definitely won't be easy to do so, maybe Pitino will get a similar tattoo on his right shoulder?
Oh, the possibilites.
Don't be surprised if Tom Izzo or Mike Kryzewski take a page from Pitino's book and vow to get tatted up in exchange for championships in the future, too.
Via
Sports Illustrated