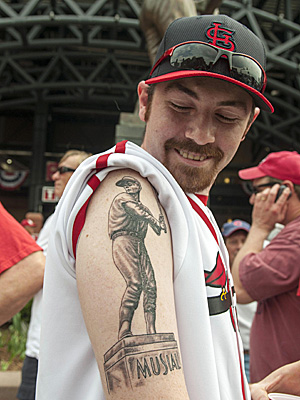 The baseball community lost a legend this offseason as Stan Musial passed away at the age of 92.
Musial, who was inducted into the Hall of Fame in 1969, played 22 seasons in the major leagues, all of which came with the St. Louis Cardinals. He is considered by most to be the greatest player in Cardinals franchise history.
So, in an effort to honor their late slugger, the team is planning to have a season-long celebration of his career, complete with various festivities and whatnot.
Monday marked the home opener for the Cards as fans flocked to the stadium in droves for the first time since October.
One fan in particular was proudly showing off the tattoo on his right bicep which pays homage to "Stan The Man." This ink can be seen in the picture above.
It portrays the Musial statue that stands on the sidewalk outside the third base side of Busch Stadium.
Not too shabby. RIP, Mr. Musial.
Musial's career was absolutely tremendous. He sported a .331 career average, won three MVP awards, and earned 20 trips to the All-Star Game.
Via
Eye on Baseball