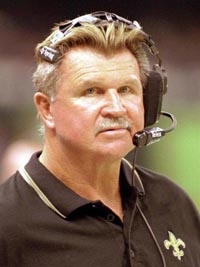 The NFL has taken steps this offseason toward making games more enjoyable for fans in the stands.
One of those steps involves
relaxing their policy
on restricting home teams from encouraging crowd noise. In the past, the league has claimed it's unfair to visiting teams. But now, the NFL is allowing teams to use video scoreboards to pump up the crowd at all times throughout the game.
Count former NFL player and coach Mike Ditka as one person who believes the league's new stance on the matter is outrageous.
"It's stupid," Ditka said. "The NFL . . . who are they appealing to? It would be like the owners working at their desk, and all of a sudden they encourage people to come in their office and make a lot of noise. It doesn't make sense. The key to football is you want to be able to see it executed properly. You want to hear the snap count. You want to see these guys use their talents where they're not tainted. Sometimes when you have crowd noise, you're not seeing the player at his best."

Whether Ditka likes it or not, crowd noise has been factoring into the outcome of sporting events since the beginning of sporting events. This is just a part of the well-known homefield advantage. In fact, it may be the biggest part.
The NFL is hoping this decision will entice more fans to pick the stadium experience over watching games at home. Additionally, the league is also requiring teams to put cameras in the locker rooms to give fans a behind-the-scenes look at what goes on before the game and at halftime.