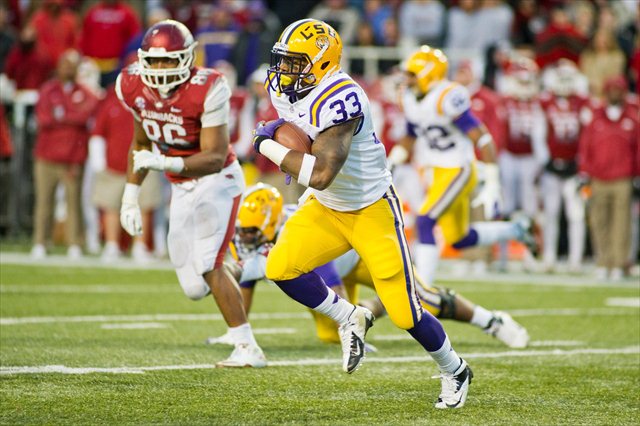 Louisiana State running back Jeremy Hill was arrested early Saturday after allegedly delivering a swift punch to another man's head.
The incident occurred at a Baton Rouge area bar and the junior-to-be has been charged with battery.
More from NBC 33:
The Baton Rouge Police Department has confirmed to NBC33 News that Hill, 20, was arrested in the early morning on Saturday, April 27. Police were called to the scene of a disturbance at Reggie's Bar in Tigerland shortly after 2:00 a.m.
Officials say the entire incident was caught on video by a witness at the scene. We're told Hill is clearly seen striking a 20-year-old man in the head with his fist. They say a second suspect is also shown striking the victim with his fist, which caused the victim to become unconscious.
By the time officers arrived on scene, Hill and the second suspect were no longer at the bar. They then located Hill and placed him under arrest.
School officials declined to comment on the matter at this time. Meanwhile, head coach Les Miles has reportedly been made aware of the situtation, but wasn't available for comment because he is currently in New York for the NFL Draft.
Hill, who rushed for 755 yards and 12 touchdowns for LSU in 2012, has been arrested before on a related charge. In January 2011, Hill was arrested and charged with oral sexual battery, but later pleaded guilty to a lesser charge of carnal knowledge of a juvenile.
Via
The Big Lead