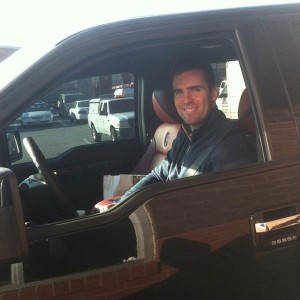 Despite signing one of the
richest contracts in NFL history
on Monday, Baltimore Ravens quarterback still likes to eat thrifty.
The Super Bowl-winning signal caller pulled into a local McDonalds drive-thru within hours of signing his lucrative six-year deal, and proceeded to order a 10-piece McNugget meal, complete with fries and an unsweetened tea. The price for such a meal cost him just $6.99.
Sherry Norman, a diehard Ravens fan and employee at the McDonalds in Aberdeen, Md., couldn't believe a guy resembling Flacco was sitting in her drive-thru at first.
"I kept saying to the people I work with, 'Doesn't that look like Joe Flacco?,' " Norman said. "And then he turned towards the window and it was him."
When Norman asked if Flacco was indeed who she thought he was, the beloved Raven confirmed his identity. Then, Flacco obliged to Norman's request to take a quick photo before receiving his food on the run.
Doesn't success taste great?
Via
ESPN