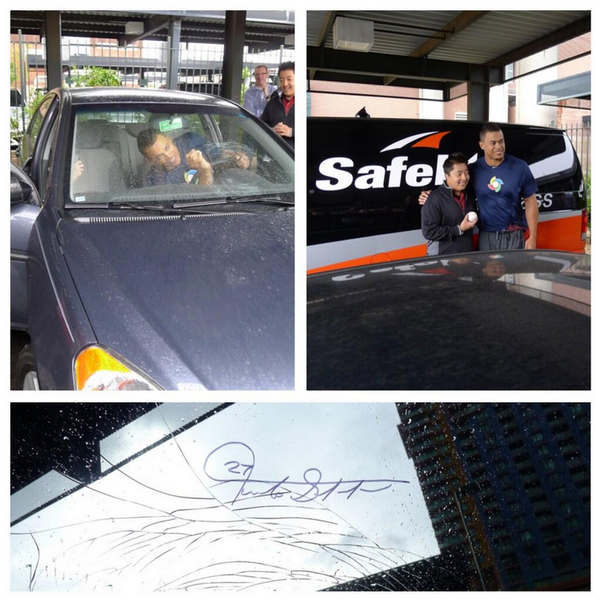 On Wednesday, Arizona Diamondbacks employee Alex Kim parked his car at the team's spring facility in Scottsdale to work a season ticket holder event.
However, he was greeted with an unpleasant surprise when he returned to his vehicle later in the day.
Kim discovered that his windshield had been smashed on the driver's side, courtesy of a long homer hit by Miami Marlins outfielder
Giancarlo Stanton
. Stanton's long distance missile came during a Team USA batting practice ahead of the World Baseball Classic.
"I was a little upset," Kim said. "My first reaction was I have to pay for a windshield that I didn't break."
Luckily, the D'backs have a sponsor, Safelite, who specializes in replacing auto glass. When Kim called the company and explained the situation, they immediately volunteered to replace the shattered windshield for free.
And the story only gets better from there.
Once word got around to Stanton about what had happened, the slugger agreed to meet with Kim to personally autograph the same windshield he had busted just hours before.
"It was pretty tough, trying to get up underneath," Stanton said of trying to get the right angle. "But it was fun."
Kim says he plans to use the old windshield as a coffee table in his home adding, "It's a great talking piece. I'm going to tweet it, Facebook it. This is definitely a moment I'll never forget."
Via
MLB Cut 4