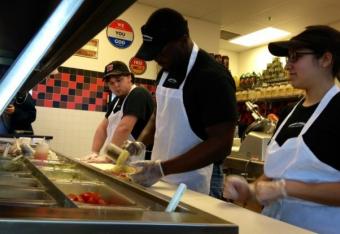 St. Louis Rams running back Terrance Ganaway wanted to make sure he stayed out of trouble this offseason, so he decided to take a job at a local sandwich shop.
The former Baylor Bears star is currently working at a Jimmy John's in Waco, Texas for a fraction of what he earned as an NFL player in 2012. Ganaway made the league minimum of $390,000 last year, which is a dramatic difference from the minimum wage he earns at Jimmy John's. But money definitely isn't his motive for taking such a humble job. No, the 24-year-old cites his willingness to save money, stay out of trouble, and continuing to work hard, instead.
Ganaway performs the same array of duties as anyone else in the shop does. He bakes bread, he works the register, and he sweeps the floors. He wipes down tables, he slices meat, and he greets customers.
As fast as Ganaway is on the football field, he says trying to live up to the quick service policy of the company can be hard.
"I'm in the heat of the battle. Trying to make sandwiches fast is Jimmy John's policy, so it's kind of stressful, he said."
The native Texan was drafted by the New York Jets in the sixth round of last April's draft. The Rams claimed him off waivers in September and placed him on the depth chart behind the likes of Stephen Jackson, Daryl Richardson, and Isaiah Pead. Ganaway has yet to touch the ball in an official game, but his lack of touches cannot be attributed to a lack of work ethic. Anyone with a six-figure salary who is willing to work for $7.50 an hour certainly doesn't lack motivation. However, Ganaway is quick to say that professional football, and not making sandwiches freakishly fast, is his primary focus.
My No. 1 job is being an NFL player. So don't get it confused as to me working at Jimmy John's has me lazy. ... I know what I have to do. I know how to get in shape and I know what it takes to perform at a high level. Really, Jimmy John's is just to keep me out of trouble in all the down time we have in the offseason.
From April 15 when we start (the offseason conditioning program) to the end of the season in December, it's a long, grinding process. And I just want to make sure my body's healthy, ready to go and ready to answer when they call my number.
Ganaway may only work 12 hours per week at the sandwich shop, but the fact that he is choosing to spend his time working in a fast food environment is impressive enough. His story should serve as a positive example for all.
Via
Bleacher Report