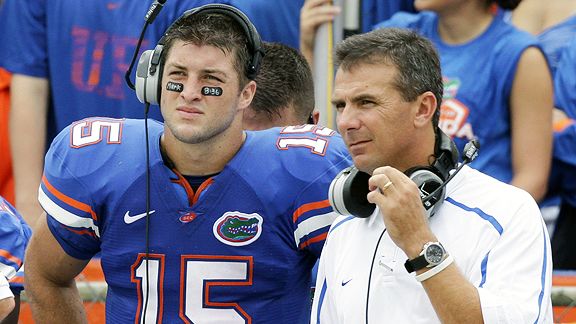 Many would say that the transition from college to the NFL for Tim Tebow hasn't gone quite as planned. Tebow came out of the University of Florida as one of the most decorated college quarterbacks of all-time. However, none of that has led to great success in the pro ranks, at least not yet.
His former coach Urban Meyer, who is now patrolling the sidelines at Ohio State, recently pointed toward the firing of Josh McDaniels, the coach who drafted Tebow in the first round in 2010, as the biggest reason for Tebow's current predicament.
"It's a great question," Meyer tells USA TODAY Sports. "I think that his coaching transition is a big part of it, with the guy that drafted him in the first round getting fired immediately. Then he goes to New York and that doesn't work out the way they envisioned."
The Broncos traded the spiritual Tebow prior to the 2012 season in order to make room to sign free agent Peyton Manning. That decision paid off as Manning led Denver to the second-best record in the AFC, while the Jets failed to make the postseason at all.
New York's quarterback situation seems to be in disarray and Tebow could be looking to take his services elsewhere.
"I'm like anyone else," says Meyer. "I'm just waiting to see what happens."
When asked if he ever could have thought Tebow would have wound up in this spot, three years into his NFL career, Meyer said: "It is a surprise for me. He has a unique skill set. But I have faith in Tim, and I think it will work out."
Meyer claims he and Tebow talk every week and believes his former signal caller can be successful if put in the right offense. Namely, a spread offense used by teams such as the Seattle Seahawks and San Francisco 49ers, among others.
Tebow has been widely criticized throughout his brief carrer for his unorthodox throwing motion and alleged inability to serve as an effective NFL quarterback.
Via
USA TODAY