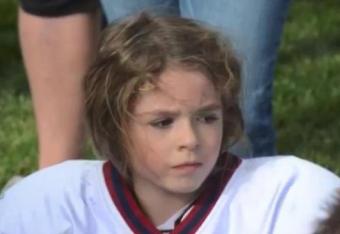 The most electrifying pee wee running back in the nation is going to the Super Bowl.
Sam Gordon, the nine-year old who took the
YouTube world
by storm, received a sweet package from the NFL on Wednesday. According to
ESPNW
, the pigskin prodigy scored tickets to February's big game in New Orleans. How cool is that?
"I think it's going to be really cool, plus I get to sit next to the NFL commissioner maybe," Gordon said.
Gordon first met NFL commissioner Roger Goodell during a trip to New York in December. The pair sat by each other during a Giants game, and as Goodell was leaving, he reportedly turned around and asked the young girl if she would like to attend the Super Bowl.
The dream became reality this week with the arrival of a card and the tickets.
An NFL spokesperson said that Goodell believes the Utah girl is "an inspirational story for football, youth football, and the participation of girls in sports".