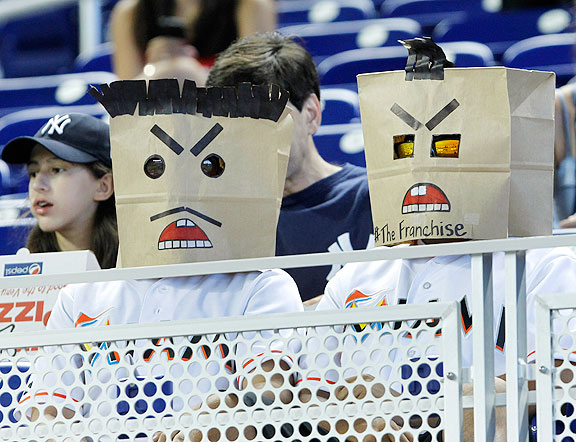 The Miami Marlins are continuing to alienate what is left of their loyal fan base.
On Monday, a team spokesperson revealed that the team won't be holding their annual FanFest event this season. Fans will get the chance to attend a scaled down version at Marlins Park instead.
"It will be accurate that there will not be an event named FanFest," Marlins vice president of marketing Sean Flynn said.
"We have an event that we will announce soon that will have some of the similar characteristics of a FanFest. It'll be different and more fan friendly," he said.
Fans will still get the chance to purchase tickets and interact with players, but the extent of how "different" and "fan friendly" the event will be is still left to be seen.
And as if that alone wasn't enough to grind the gears of ticked off fans, the club also revealed it won't be holding its annual player caravan this year, either. Traditionally, players and coaches have made appearances around the Miami-area community at schools, shops, and restaurants.
Flynn suggests that they will have a week where they allow fans to come mingle inside the ballpark along with fans instead. In essence, fans of the Fish will have to make their way down to Marlins Park rather than having the players come to them. This could prove problematic considering how many folks may have forgotten how to get there. Although Miami ranked in the middle-of-the-pack in MLB attendance last season, due largely in part to their new stadium, fan interest and attendance fell off sharply toward the end of the campaign.
Picked by many as preseason World Series contenders, the Marlins sputtered to a disappointing 69-93 record and last place finish in the division. The front office decided to implode the team by firing manager Ozzie Guillen and trading away the likes of Jose Reyes, Mark Buehrle, and Josh Johnson, among others, to Toronto.
Outfielder Giancarlo Stanton and pitcher Ricky Nolasco have since criticized the team's management for their bold moves.
The announcement on Monday will do little in helping to regain and/or repair fan interest. In fact, it is yet another blow to the existing fan base, and a potentially costly one at that.
Via
The Palm Beach Post