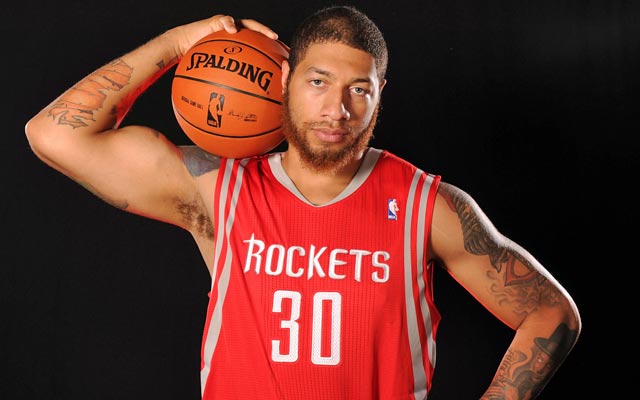 Houston Rockets rookie forward Royce White has been suspended since Jan. 6 after refusing an assignment to report to the Developmental League. White is upset with the way the Rockets have handled his anxiety and obsessive compulsive disorders this season, which has led him to appear in an interview for "Real Sports with Bryant Gumbel" to express his thoughts on the matter. The interview is set to air on Tuesday.
In the 16-minute segment, White urges the team to hire a physician to help determine whether or not his mental health conditions will allow him to play on a day-to-day basis.
"I want a medical point person that will remain neutral and keep the interest in health," White told Goldberg.
For example, if a doctor determined that White wouldn't be fit to play against the Los Angeles Lakers because of his anxiety disorder, "Then I can't play against the Lakers," he said.
"Just like if your orthopedist says, 'Royce's left toe has a crack in it and he shouldn't run or jump against the Lakers tonight,' then I can't run or jump against the Lakers tonight."
White's OCD disorder is often the source of great concern, as he constantly worries about the structure and order of things surrounding him.
"The item in here for me, out of all my clothes and belongings, that represents the most anxiety for me . is these hats right here," White said. "They're easily misplaced. You know, they're easily displaced. It's a round shape on a hook, on a square. You know, it's just geometrically, it messes with my mind. Which is why I'm very careful when I come in my own closet."
The 21-year-old traces
his anxiety disorders
back to a basketball practice when he was 10. He witnessed his best friend collapse and go into cardiac arrest while the team ran wind sprints. He rode along with his friend to the hospital in an ambulance, and although his friend lived, White still fears conditioning runs to this day.
White, who was a five-star prospect coming out of high school, began his college career at the University of Minnesota. He transferred to Iowa State after just one year and, after sitting out the 2010-11 season, became a star in 2011-12 for the Cyclones.
He opted to enter his name into the NBA Draft after enjoying a great sophomore campaign. Houston selected him 16th overall in the 2012 NBA Draft.
White has yet to play in a single game for the Rockets.
Via
Ultimate Rockets