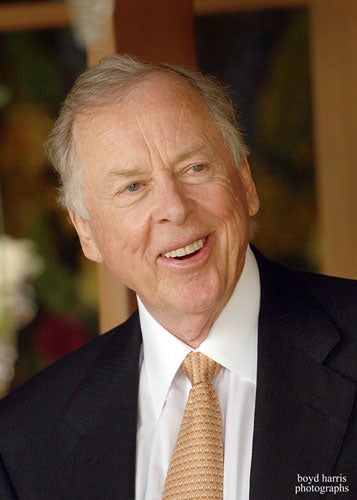 Billionaire T. Boone Pickens has spread some holiday cheer to Oklahoma State Cowboys fans in the form of free basketball tickets.
On Tuesday, Pickens purchased the remaining 4,000 unsold tickets to his alma mater's upcoming New Year's Eve game against the Gonzaga Bulldogs. On Wednesday, he asked for the school to distribute them for free on a first-come, first-serve basis. The tickets were gobbled up within an hour and half.
"I thought long and hard about what gift I could give my fellow OSU Cowboys this year," Pickens said in a release. "I couldn't find enough basketballs, but I did find enough basketball tickets. Let's put them to good use, pack Gallagher-Iba for the Gonzaga game, and put a great exclamation point on a promising OSU basketball season."
Pickens' generosity to the university with which he once attended has made him one of the most well-known and well-loved boosters in the entire country. The 84-year old businessman has donated countless funds for stadium renovations and practice facilities over the years. But it's simple gestures such as this one that endear him to the folks in the Stillwater community.
Via
The Dagger
.