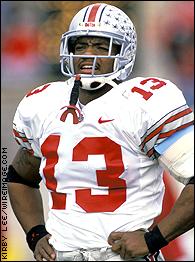 The hits keep coming for ex-Ohio State running back Maurice Clarett, quite literally, although he isn't being accused of any wrongdoing this time. That's because his girlfriend is wanted by police for allegedly beating up the former Buckeye.
More from the
Columbus Dispatch
:
Police responded to a domestic-violence call at 12:17 p.m. on Saturday at 6866 Willow Bloom Dr.

Clarett, 29, told police that Ashley Evans bit him on the wrist and chest and punched him in the face with a closed fist.

According to birth records, the couple have a 6-year-old daughter.

Evans, 30, is charged with domestic violence and assault, according to Franklin County Municipal Court records.
Evans is still at large.
This report comes just weeks after author Monte Burke made some revealing statements about Clarett's college life in his book entitled "
4th &Goal: One Man's Quest to Recapture His Dream
". The most revealing one being that Clarett claims he was
paid more in his freshman season
at OSU than he does now in the UFL.
Via
Columbus Dispatch
.