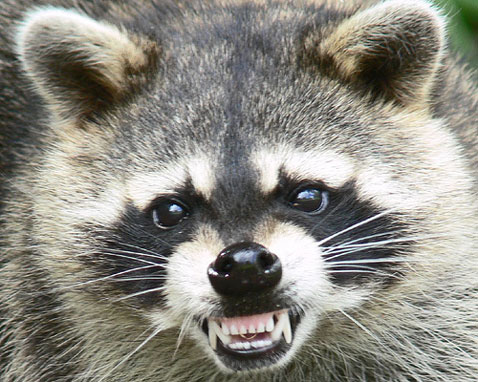 Washington Redskins running back Alfred Morris is having a stellar rookie campaign. The Florida Alantic product has rushed for 1,322 yards and 9 touchdowns on the year, helping the Redskins boast the NFL's top rushing attack. However, Morris recently spoke about a time in college when he was attacked by a raccoon while trying to grab a cheeseburger at McDonalds.
From
DC Sports Blog
:
"'We just came back from McDonald's or something,' he continued. 'During the summer it's hard times and they had 49-cent cheeseburgers on Sundays. Anyway, we pulled up and saw a raccoon, and it was daylight so I was like, that thing is rabid.'

Morris got out of the car as the raccoon started moving in his direction.

'All of a sudden I looked down and it was charging at me,' Morris said, running in place as he told the story. 'So I jumped, and when I jumped one of my sandals fell off. He went running past me, stopped and grabbed my sandal. I yelled, 'He got my sandal!' and went chasing after him.'

The raccoon tried to run under the car with it, but the sandal got caught on the car's bumper and fell out of the animal's mouth. Morris grabbed his footwear, thinking the ordeal was over.

'We started walking off and he came running after us again,' Morris laughed. 'So we started running, but my friend chased [the raccoon] to the end of the parking lot. But when he turned around to come back, the raccoon started chasing him again. That raccoon was having too much fun.'"
Geez, what is wrong with nature these days? Can't a guy go in peace to enjoy a juicy burger at the golden arches?
This is the second NFL-related story involving a mischievous raccoon recently. A couple of Sundays ago
a raccoon caused some mayhem
at Paul Brown Stadium during the Bengals-Cowboys affair.
Via
SportsGrid
.