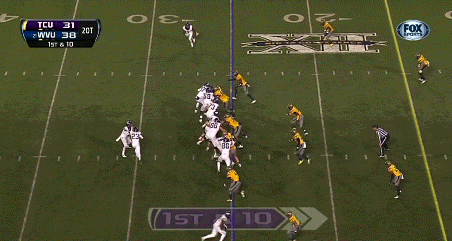 The TCU Horned Frogs went into Morgantown and upset the 21st-ranked West Virginia Mountaineers in a wild one on Saturday.
Trailing 38-31 in the second overtime, TCU pulls a rabbit out of their proverbial hat by unleashing a reverse pass that leads to a 25-yard touchdown. The Horned Frogs likely could have settled for an extra point to force the issue on a third overtime, however, they decided to go for the win and succeeded when they converted a gutsy two-point conversion attempt.
"The two-point play was the same one we used at Boise State
in 2011
," said TCU head coach Gary Patterson afterward.
Here's the video of the game-winning play: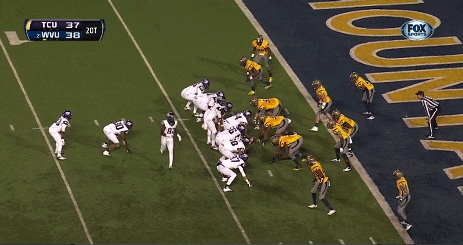 The heartbreaking defeat marks the third straight for the reeling 'Eers -- their longest losing streak since 2004.
Via
Bleacher Report
.