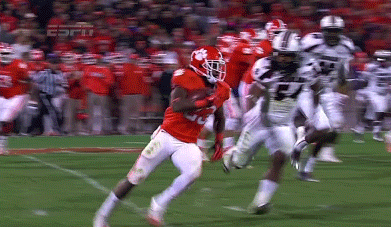 The Clemson Tigers and South Carolina Gamecocks hooked up for a bitter rivalry game on Saturday. And it would seem as though there is no love lost between the two schools.

Seen here is Gamecocks safety D.J. Swearinger laying the wood to Tigers running back Andrew Ellington during a play. Swearinger then proceeds to pick up an unsportsmanlike penalty after taunting Ellington with an in-your-face flex maneuver.

South Carolina went on to flex their proverbial muscles as well after winning the game, 27-17, to wrap a 10-2 regular season.