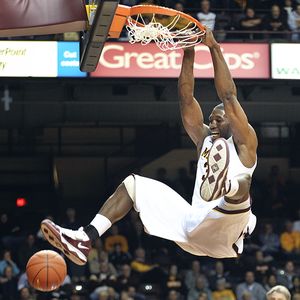 It may cost Minnesota Gophers forward Trevor Mbakwe a pretty penny if his team doesn't qualify for the NCAA Tournament this upcoming season.
The fifth-year senior made the following pledge via Twitter on Saturday night in which he guarantees the Gophers will make the Big Dance or else he will refund his scholarship:
That's a rather risky bet considering Minnesota missed the tournament in each of its past two seasons, and have qualified just three times overall since 1997. But that hasn't kept the former All-Big Ten performer from making bold projections for this campaign.
Minnesota nearly made the Field of 68 last year after winning 23 games during the regular season. However, they settled for a NIT runner-up finish instead. The Gophers were forced to finish the majority of the year without the services of Mbakwe after he tore his ACL before the start of conference play. Having him healthy this go around should bode well in helping Minnesota return to tournament.
But should the Gophers and Mbakwe fail to fulfill his pledge, he may be looking at a bill of around $30,000 for repayment if you include tuition, books, room and board, and other miscellaneous expenses. It is impossible to determine the precise value of an athletic scholarship at Minnesota, but it's safe to assume it isn't cheap.
Now whether or not the school would make him repay all of that remains to be seen.
Via
The Dagger
.